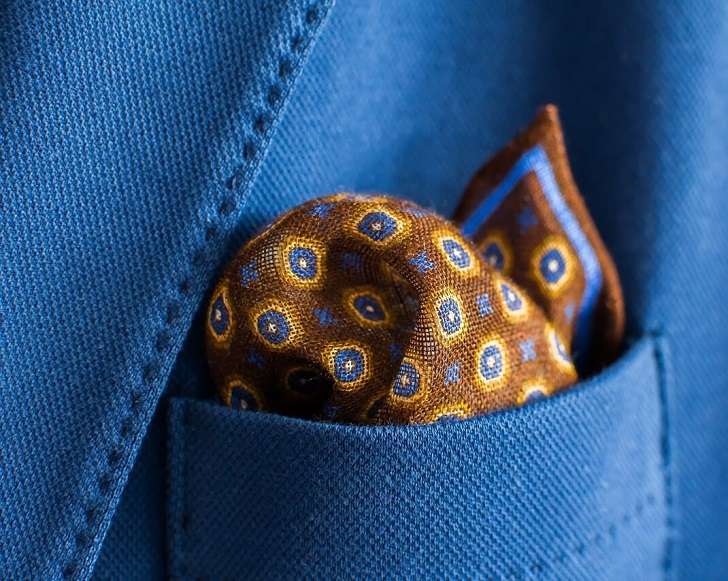 [PR]
Theories on how to use and coordinate a pocket chief
Pocket chiefs are a great way to add a dressy touch to your jacket or suit style.
Pocket chiefs are a great way to add a touch of color to a jacket or suit.
A pocket chief is more than just a prop to add color.
Mr. Masakatsu Ochiai, a clothing critic, wrote in his article, "What is the role of a pocket chief?
When you face the front, your tie and pocket chief will be in the forefront of your mind.
There is no way that these two items can be carelessly coordinated.
If the pocket chief is worn in the wrong way, only a sense of discomfort will be left in your mind.
In order to achieve a good balance, it is necessary to harmonize it with the tie and the jacket.
Masakatsu Ochiai 落合正勝 (1945 – August 7, 2006), a fashion critic, wrote an article for LEON magazine titled "What is the role of a pocket chief? Let's take a look at a part of
I don't like to say that I don't care about my knowledge while expressing it, but there is no need to have knowledge or theories about how to insert a pocket chief or how to show it. The primary role of a pocket chief is to give a three-dimensional or rounded shape to the chest, which is the same as the knot of a necktie that adds a three-dimensional shape to the throat. The knot is determined by the lapel of the suit and the collar width of the shirt, in addition to individual preferences. The only things you can adjust freely in size and area are the knot of the tie and the pocket chief. However, there are some basics (though no rules).
First of all, don't match the pattern of your tie and pocket chief. Co-patterns were introduced in the early 60's and became popular mainly among the French. However, when two identical patterns compete and assert themselves in a limited area of the upper body, it leads to a loss of definition. The emphasis should be on either the pocket chief or the necktie, and one of them should play a complementary role.
If the tie is plain navy blue, the pocket chief should be navy blue with small white polka dots or navy blue with a paisley pattern to create a sense of tension. If the tie is navy blue with a small pattern, the pocket chief should be plain navy blue or the color of the pattern. It is more elegant if there is some color in common between the two. When using a completely different color, it is difficult because it is strongly related to the color and pattern of the suit, but basically, choose colors that go well together. For example, navy blue and gold, or green and brown. In order to remember the colors that go well with each other, books on color are useful.
This is different from the case of considering the combination of tops (jackets and shirts) and bottoms (pants), so it is extremely difficult to coordinate a tie and a chief in "completely different colors" that go well together.
Hardy Amies' definition of a pocket chief
Sir Edwin Hardy Amies (17 July 1909 – 5 March 2003), an English tailor and designer, defines a handkerchief (as a pocket chief) in a way that only an Englishman can interpret.
A handkerchief must be ready for sudden sneezes, to ward off wasps, or to wipe off spilled champagne. …When you wear a jacket, you need a handkerchief as well as a shirt and tie. There are rules to this. The most important thing is that the handkerchief must appear to be used. The most important thing is that it must look like it is being used. Having one handkerchief in your breast pocket for show and another one for actual use is the most dumb (naff) thing a man can do.
The second rule is that the handkerchief and tie should be in different tones of color, but the colors and patterns should not match. A white handkerchief is also safe, but a good one with a sewn edge is preferable. My friend Alexis French, who is on the cover of this book, uses a fine lawn, or linen handkerchief, and shows it off in a casual, modern way. She looks as if she has just blown her nose. …
(The above is from the handkerchief page of the book "British Menswear" (1997).
Considering the purpose of using a pocket handkerchief as a handkerchief, the way to insert a pocket handkerchief will naturally be natural and careless.
Actually in use pocket chief
How to fold and insert a pocket chief
【Three Peaks】


This is a way to show three peaks.
This is a highly formal way to fold a pocket chief for ceremonies and receptions.
【TV Fold】


The TV fold was named after the American TV anchor who used to do this.
It only shows part of the folded chief.
This is the most discreet way of inserting a chief for business suits.
If you are wearing a white shirt, you can wear a white pocket chief.
If you are wearing a white shirt, you can wear a white pocket chief all the time.
【Crushed style】


This is a way of inserting a pocket chief with a random edge.
This is a simple, but gorgeous style.
【Puffed style】


This is a way of inserting hair to show its roundness.
This is a casual style that is easy to use in daily life.
How to insert a pocket chief (from MODERN BLUE)
Material of Pocket Chief
Silk is the most common material for a pocket chief, as it gives a smooth and puffy look.
Linen, cotton and wool materials are also good if they go well with the material of the tie and jacket.
Coordinating a Pocket Chief
As the leading authority mentioned, there are no rules or theories on how to use a pocket chief, but you want to coordinate it as beautifully as possible.
In my opinion, you should consider the harmony of colors and patterns.
Match the pocket chief to the color of the jacket
Let's consider the case of matching a pocket chief to a jacket that is not monochromatic.
In the case of this windowpane jacket, the jacket is made up of two colors: the base color of glaze and the windowpane color of navy.
Navy Trimmed Pocket Chief
A pocket chief with a navy border on a white background can be worn in a variety of ways.
The intersecting lines of the windowpane and the border of the pocket chief create a light contrast. A white shirt is recommended as an inner layer.
Pocket Chief with Beige Paisley Pattern
The beige of the pocket chief blends with the glaze of the jacket, and the complex hues of green, black and blue of the paisley match the navy of the windowpane.
Paisley Pocket Chief Selection
Matching pocket chiefs to the color and pattern of your tie
The most accurate way to coordinate a pocket chief is to match it with the color of your tie.
For formal occasions, this is easy. As seen in weddings, a white tie with a white pocket chief. An ivory tie should be paired with a pocket chief of the same color.
If the tie has a pattern, match it with two or three of the colors included.
However, a pocket chief in the exact same color and pattern as the tie would be a bit distracting and too monotonous.
A pocket chief that contains two or three colors with similar but slightly different patterns will increase the complexity of the look and create a rich harmony.
Wearing a pocket chief in a color unrelated to your tie will only create an unbalanced look. The only pocket chief that does not need to take into account the color of the tie is a white pocket chief. The only condition is that you are wearing a white shirt.
Italian Pocket Chief
Pocket Chief, scarf
International shipping
Japanese text and product link
YOOX.COM(ユークス)日本では手に入らないもの、新たな発見をイタリアからお届け

Overseas delivery・Supports other languages